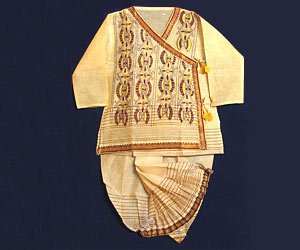 The weather of West Bengal varies from place to place, so what-to-wear strictly depends upon the season and city of your visit. The summers are quite humid in delta and plains of West Bengal, but scorching in western highlands. The hilly landscape of West Bengal has quite different weather from the rest of the state. It is pleasantly cool in summer and harshly chilling in winter. So, whatever you pack your bags with must suit the nature of your travel as well as the weather prevailing in the region you are going to visit.
If you are planning to take a trip of entire West Bengal in summer, pack light woolens for hill-stations and loose cotton clothes for plains. For western highlands, don't forget to pack your bags with fully covered cotton attires, sun-screens and sun-glasses, because the scorching heat here is very similar to the plains of North India. Synthetic and clingy fabrics are a strict no-no here, in this season. For the monsoon season, clothes in natural fabrics will be ideal, along with raincoats and umbrellas.
In winter, carry both light and heavy woolens, so that you use it in accordance with the temperature of the area you are visiting. For hills, don't forget to keep gloves, overcoats, mufflers and boots, while for plains carry light woolens like stoles and pullovers. If you are simply planning to visit Kolkata and the places around, you need not pack your bags with heavy woolens, as winters here are chilly, but not freezing cold. The best bet would be to carry some premium quality cots-wool attires with you.
Till the time you are in Kolkata, you need not to worry about your dressing sense. You can wear whatever you feel comfortable with, if you are going to clubs and discos. However, try avoiding skimpy and skin-fit dresses while you are putting up in a village, traveling via public transport or visiting religious places. A pair of comfortable jeans and T-shirt will be apt throughout West Bengal. While on a trip to Darjeeling, try the colorful local attires of the hilly region, which you are sure to find nowhere else.