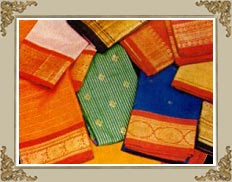 Dharmavaram is eminent throughout the country for its elegant silk sarees. Situated at a distance of approximately 47 km from Anantapur city, Dharmavaram has been named after 'Dharmamba', who was the mother of Sri Kriyasakthi Odeyar (person, who built the first tank in the region). Its cotton and silk weaving industry has made the city renowned not only in India, but throughout the world.
Here, the artisans are also experts in making leather puppets. Your trip to Andhra Pradesh would be incomplete if you don't travel to Dharmavaram. In fact, it is one of the best places to shop for ethnic and stylish saris in the country. Usually these sarees have broad borders, adorned by brocaded gold patterns. Not following any color contrast, Dharmavaram saris comprise heavy 'pallus' with exclusive designs.
Besides south-silk, you can find sarees in different materials, like cotton, tussar silk, cotton silk, etc. The variety of handlooms could range from cushion covers to bedsheets, curtains to carpets and various other things. If you are keen on observing the art of weaving, you can check out the local production houses, where hundreds of weavers are engaged in intertwining colorful threads of cotton and silk to fabricate exclusive textile material.