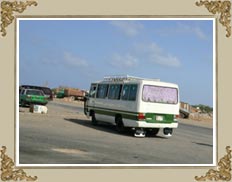 Sited in the largest district of Andhra Pradesh, Anantapur is well-connected to all the major parts of India. It has an excellent network of roadways and railways, helping those reaching the city. In fact, Ananthapur is easily accessible by air, rail or road, providing you all the options of traveling there. Despite the fact that the city doesn't have its own airport yet the airdromes at Puttaparthi and Bangalore receive its entire traffic of air-passengers. Scroll down to know how to reach Ananthapur.
By Air
The airports at Bangalore and Puttapurthi serve the needs of air-passengers for getting to Anantpur. The former lies at a distance of 200 km, while the latter is 70 km from the town. Bangalore airport is well-connected to all the major cities of the country, while Puttaparthi airport is connected with some limited cities. One can take bus or hire taxis to cover the remaining distance.
By Train
Anantapur is connected to the cities like Hyderabad, Bangalore, Mumbai, New Delhi, Ahmedabad, Jaipur, Bhubaneswar, Pune, Vishakapatnam and other major cities, by well-laid out network of Indian Railways.
By Road
The National Highways 7 and 205 pass through and connect Ananthapur with all the major cities of India. Moreover, there are numerous private and government bus services connecting the city with the other parts both, within and outside Andhra Pradesh.