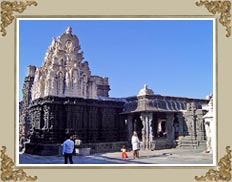 By now you must have enjoyed the tourist attractions of Anantapur and its time to elongate your trip by adding excursions to it. Not delaying anymore, here comes the information about tourist places near Anantapur. Ranging from the earliest temples to incredible forts, there are many places to see around the city. Once seen, you would like to visit them again and again, since they have got eternal charm. Here you can see world's largest banyan tree that extends to 5.2 acres. Scroll down to know more about the tourist places near Ananthapur.
Puttaparthi
India has always been known for its spiritual and cultural roots. This divine land has given birth to numerous blessed souls and mystics. Puttaparthi is a small village that got recognition with the little boy who took birth here and later came to be known as 'Sri Satya Sai Baba'.
Lepakshi Temple
Lepakshi is actually a small village that is situated in the east of Hindupur, which falls under the Anantapur district of Andhra Pradesh. This settlement is famous for its artistic temples, which date back to the 16th century. A striking specimen of the Vijayanagar style of architecture is the Lepakshi Temple.
Dharmavaram
Dharmavaram is eminent throughout the country for its elegant silk sarees. Situated at a distance of approximately 47 km from Anantapur city, Dharmavaram has been named after 'Dharmamba', who was the mother of Sri Kriyasakthi Odeyar.
Penukonda Fort
Penukonda Fort is a colossal structure, whose each and every stone boasts of the royalty of the erstwhile era. Penukonda is a small town in Anantapur district of Andhra Pradesh. In the ancient times, it used to serve as the second capital to the Vijayanagar kings.
Gooty Fort
Gooty is a small town, known for embracing one of the oldest forts of Andhra Pradesh. At a distance of 52 kms from Anantapur city, the fort is a prime attraction for tourists. Above the plains in Gooty, the impregnable fort is perched at a height of 300 meters, amidst hills.
Sri Lakshmi Narasimha Swamy Temple - Kadiri
Kadiri is a small settlement situated at a distance of 90 kms from Anantapur. It is known for Lord Lakshmi Narasimha Swami Temple, a shrine where the presiding deity 'Swayambhu' emerged from the roots of Khadri tree. The main attraction here is that the idol sweats. Rathothsavam (Car Festival) is the major event observed here every year, summoning many pilgrims from all over the state.
Thimmamma Marrimanu
Located 120 km from Anantapur, Thimmamma Marrimanu has the distinction of being the world's largest banyan tree. This huge tree covers an area of 5.2 acres. In 1989, it secured a place in the Guinness Book of World Records, owing to its enormous size. Thimmamma Marrimanu is said be approximately 550 years old.
Tadipatri
Tadipatri is a hamlet that boasts of many interesting religious monuments. To be found 90 kms from Ananthapur, Chintala Venkataramana Temple is known for its gigantic spire. Bugga Ramalingeshwara Temple is another shrine beside Pennar River that is notable for a lingam, set on a pedestal and perpetually sprinkled with water from a small brook.
Alur
Inundated with impressive waterfalls, Alur is a small village about 70 kms from Ananthapur. It is the perfect destination for picnics, amidst lush greens, lofty hills and small rivulets. The famous Ranganatha Swamy Temple is also located here. The annual car festival celebration draws people from all parts within and outside the state.
Hemavathi
Located about 160 kms from Anantapur, Hemavathi once served as the capital of Pallavas. The place has a remarkable collection of Pallava and Chola architecture. It boasts of the ruins of an ancient fort, the Hemavathi Fort. Doddeswara Swamy Temple is another structure that was built during the Pallava reign. Some other renowned temples situated here are Siddeshwara Swamy, Mallikarjuna Swamy and Gorantla.
Raidurga Fort
Raidurga Fort is a primeval structure, which had a considerable role in the history of the Vijayanagar Empire. The impregnable fort has many small forts and temples. The shrines dedicated to Narashimhaswamy, Hanuman, Prasanna Venkatesvara, Jambukeswara, Kanyakaparameswari and Elamma are the prominent ones. Though now mostly in ruins, the fort would take you back to the royal splendor. It also offers a breathtaking view of the town below.