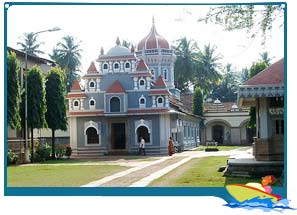 The opulent Mahalsa temple is one of the most famous temples in Goa. The temple is dedicated to Goddess Mahalsa, an incarnation of Lord Vishnu. Hence the temple is also as the Mahalsa Narayani temple, Narayan being another name for Vishnu. The Mahalsa temple is located one kilometer afar from the Mangueshi temple, another prominent temple in Ponda.
Another victim of the Portuguese excesses during the Inquisition, the deity of the Mahalsa temple was originally located in the village of Verna in Salcete taluka. With the threat of persecution looming large, devotees clandestinely transferred the idol across the river to the present location of Mardol.
The visually appealing outline of the temple is augmented by the six-storied 'deepstambha' or ornamental lamp pillar in the courtyard. This splendid pillar is 40 feet in height and has 21 rings of a hundred fifty small lamps. A fascinating spectacle unfolds when it is lit up with oil wicks on the annual festival day or Jatra. Apart from the Jatra, the Jaiyanchi Puja held in August and the Kojagiri Pornima are two other special occasions.
How to Reach Mahalsa Temple
The Mahalasa temple is located about a km from the famous Mangueshi temple, off the NH 4A connecting Ponda to Panaji.