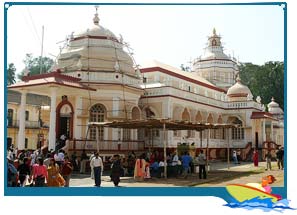 Located about 21 km from Panaji, the Mangueshi temple stands tall amidst the scores of Hindu temple that dot the Goan landscape. One of the survivors of the destruction unleashed by the Portuguese, the Manguesh temple was originally located at Kushasthali (present day Cortalim). With the threat of persecution looming, the linga was transferred from the original temple to the present location at Priol, then a part of the dominions of Sultan Adil Shah.
After the shifting of the deity in 1560, the Sri Manguesh temple underwent many subsequent rounds of renovation during the reign of the Marathas and again in the year 1890. As part of the refurbishment of the temple in 1973, a golden kalash (holy vessel) was fitted atop the tall dome of the temple.
The architecture of the Mangesh temple reflects an amalgamation of Hindu, Christian and Muslim styles of construction. Lord Manguesh is an incarnation of Lord Shiva and the Shivalinga inside the fluorite designed sanctum is flanked by dwarpalas (guards). During the annual Jatra held in January, the temple is illuminated brightly and the deity is taken out in a palanquin and paraded in huge chariots.
How to Reach the Mangueshi Temple
Similar to the Mahalasa and Naguesh temples, the Mangueshi temple is located very near to the NH 4A connecting Ponda to Panaji.