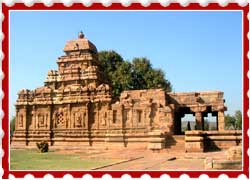 When you visit the temple town of Aihole, make sure you avail an Aihole excursions tour that takes you to some of the fascinating destinations around. Excursion around Aihole will feature Badami caves, Koodalasangama and Pattadakal in the itinerary.
Badami (44 km)
The picturesque town of Badami is renowned for its cave temples. Scooped out of a red sandstone rock on the cliff of a hill, the four cave temples of Badami are must-haves on the itinerary of tourists. Out of the four temples, three are Brahmanical temples (2 dedicated to Vishnu and one to Shiva) and one is a Jain cave temple of the 7th century.
Pattadakal (22 km)
A must have in excursions from Aihole. A UNESCO World Heritage Site for its ancient temple complex, Pattadakal was the second capital of the Chalukya dynasty after Aihole. A treasure-trove of temples epitomizing the zenith of Chalukyan architecture, Pattadakal makes a perfect excursion from Aihole.
Koodalasangama (45 km)
A great pilgrimage center of Hindus, Koodalsangama is worth a visit for the magnificent temples that embody the Chalukyan temple architecture. The confluence of the Krishna and the Malaprabha rivers add to the scenic surroundings.