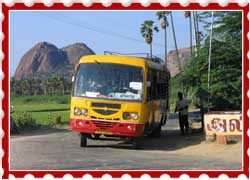 The picturesque temple town of Aihole is located in the Bagalkot district of Karnataka. You can get to Aihole by road, rail and air services.
How to Reach Aihole by Road
Aihole is connected by road to Pattadakal (17 kms), Badami (44 kms) and Bangalore (490 kms). Package tours are conducted every day from Bangalore during the tourist season. One can also use any road service from Belgaum city via Bagalkot to reach Aihole.
How to Reach Aihole by Rail
The nearest railhead is Bagalkot -- 34km on the Hubli-Sholapur meter gauge line.
How to Reach Aihole by Air
The nearest airport is Belgaum-189 km, which is connected to Mumbai by Vayudoot flights.