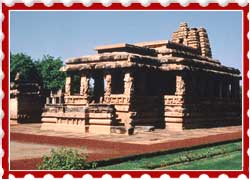 Aihole tours would help you explore the landscape of Aihole, dotted with numerous temples.
Durga Temple
Best known of the Aihole temples, the Durga temple resembles a Buddhist chaitya for its apsidal plan. The composite temple structure comprises a high moulded adisthana, a mukha mandapa, sabha mandapa and a shikhara over the garba griha. A pillared corridor runs around the temple, enveloping the shrine, the mukhamandapa and the sabhamandapa. The pillars are ornamented with intricate carvings of Siva on his Rishaba vaahnam and Vishnu on his Garuda vaahanamon one side and Vaarahar and Mahishasura Mardini trampling the buffalo demon on the other side.
Ravanaphadi Temple
Tours to Aihole would be incomplete without a visit to the Ravanaphadi temple. Scooped out of rocks, this temple dates back to the second half of the 7th century. The rectangular shrine has two mandapams in front of it and a rock cut Shivalingam. On the ceiling of the chamber connecting the front square mandapa and the main shrine are carvings of Lord Vishnu on his Garuda Vaahanam, a central lotus design and Indraa on his Airaavatam.
Ladh Khan Temple
One of the most ancient temples in Aihole, the Ladh Khan temple consists of a shrine with two mandapams in front of it. The temple derives its name from a Muslim mendicant Ladh Khan, who used to live in the temple premises in the 19th century. The mukhamandapa in front of the sanctum has a set of 12 carved pillars. The sabhamandapa in front of the mukhamandapa has pillars arranged in such a manner as to form two concentric squares.
Meguti Jain Temple
Perched atop a hillock, the Meguti Jain temple sits on a raised platform, and a flight of steps leads one to the mukhamandapa. The roof of the mukhamandapa is an ideal vantage point to have a panoramic view of the plain with a hundred or more temples. From a historic standpoint, the Meguti temple has an inscription on its foundation stating that it was built in the year 634 CE. This inscription also contains a reference to the poet Kalidasa.