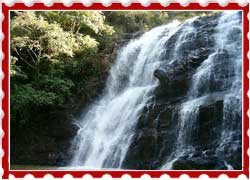 Coorg tours will help you relish the scenic surroundings and sprawling coffee plantations of this hill station.
Abbey Falls
The magnificent Abbey falls present a breathtaking sight with waters gushing down into a rocky ravine. Tucked away between private coffee plantations, Abbey Falls offers a splendid backdrop for picnics. The ideal time to visit the Abbey falls is the monsoons, when the surrounding vegetation grows thick.
Coffee
Tour of Coorg won't be complete without a feel of the sprawling coffee plantations dot the landscape of this hill station. During the flowering season of March and April, the rich aroma of coffee wafts through the air of Coorg. Most of them are under multiple cropping of coffee, orange, black pepper, and cardamom at the bottom of the slopes. Plantations are beautifully maintained with modern irrigation and curing and processing facilities for the beans.
Madikeri
Known for its quaint old world charm, the town of Madikeri is the district headquarters of Coorg. Situated at an elevation of 1525 m, the cluster of red-roofed dwellings provides a soothing contrast to the rolling hills around. The 19th century Madikeri Fort houses a number of monuments and shrines within its stone ramparts. Raja's seat perched atop a hill, is where the kings of yore spent many pleasant evenings watching the golden sunset.
Trekking
A trekker's paradise, the rolling hills of Coorg present innumerable trekking trails. During the peak trekking season from October to February, avid trekkers embark on the mountain trails dotted with little shrines - some beside waterfalls, and others on the banks of rivers. The Brahmagiri ranges of South Kodagu possess the most-frequented trekking trails, where a forest trail leads from Iruppu Falls to the Brahmagiri peak.