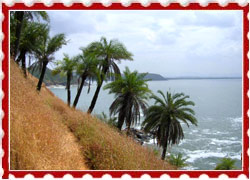 Min Temperature:
18
0
C (Summers), 14
0
C (Winters)
Max Temperature:
40
0
C (Summers), 32
0
C (Winters)
Best Time To Visit:
October to March
Touched by the waters of the Arabian Sea, Gokarna brags of having some of the peaceful beaches along the shoreline of Karnataka. The semi tropical moderate climate of Gokarna is fairly influenced by the proximity of Western Ghats. Summer season, which generally extends from March to May, has temperatures ranging between minimum of 18
0
C and maximum of 40
0
C.
Monsoons though bring a respite from the scorching sun; it ends up making the waters murky and region mud-spattered. Thus, the months of June to August experience heavy rainfall, making it difficult to stroll around the beaches in Gokarna. In fact, it is not recommended to swim at beaches as it could be dangerous in high tides. The temperature hovers between 14
0
C and 32
0
C during winters which prevails from November to January.
During February-March, the festival of Shivarathri is celebrated for 4 days with much pomp and show in Gokarna. The city observes a procession where 2 giant chariots are pulled down to the main street. At this point of time Gokarna receives huge crowds of pilgrims. To cut the big story short, the best time to visit Gokarna is between October and March, avoiding extreme summers and heavy showers of monsoons.