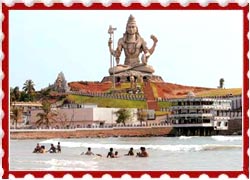 Gokarna is primarily recognized as a religious place in Karnataka. Over the past few years, its golden beaches have gained popularity among the people of nearby cities who come here to unwind themselves. As far as fun activities / things to do are concerned, Gokarna is a right place to set yourself free and laze around - leaving all your worries behind. Read the article till the end to know exactly what to do and see in Gokarna, India.
Visit Temples!
Mahabalesvara Temple is the prime attraction of this "Kashi of the South". Sited on Chariot-Car Street, 1 km north-west of the bus stand, this temple is a delight to observe. Though there is nothing extra-ordinary about the architecture of this ancient temple, the tranquility inside is worth experiencing. If you can, then do attend the Mahamangalarti which takes place at 12.30 pm and 8.30 pm. Men are advised to remove their shirts before entering the temple. Due to security reasons, cameras and mobiles are not allowed inside the temple. People adhering to any other religion than Hinduism are not allowed to visit the temples. Likewise, some other proximate temples like Tamra Gauri (Parvati) Temple, Mahaganapati Temple, Uma Maheshwari Temple, Bhadrakali Temple, Varadaraj Temple, etc, are worth visiting.
Soak in water & sands!
The unruffled beaches of Gokarna offer a great opportunity to enjoy amid waters and sands. In short, leisure time for your own. Take a stroll of 20 minutes from the town to reach Kudle Beach, which is a 2km stretch of white sand dotted by palm trees. Kudle Beach is the one closest to the town. This one-km stretch is crescent-shaped, hugging a wide cove. Here you can see people practicing yoga and martial arts, or strumming the guitar in the evenings. About 5 kms from the town centre, Om Beach is approx. 20-min walk from Kudle. OM Beach is not just another but the most scenic and popular beach in Gokarna. It's christened after the shape, it resembles.
Other interesting beaches could be Paradise and Half Moon beaches which are smaller yet nice, accompanied by rugged cliffs and secluded coves and islets. It's quite difficult to reach Half Moon and Paradise beaches, as compared to others. They are about an hour's walk from Om Beach en route casuarinas and palms. The trek is pretty tiring as it entails steep ascents and descents. Otherwise, these beaches can be reached only by motorboats from the other beaches. These beaches generally get fewer crowds and that's why, they are perfect for people yearning solitude. All the beaches have number of cafés and shacks, offering food and accommodation for the night. People who wish to swim or just soak in the waters must look around for the cautionary boards.
Go Trekking!
The beaches on the stretching coast are accessible by foot. Each of the beaches has its own unique charm and deserves to have at least half day of your itinerary. People, who love to be adventurous, will get good trekking opportunities to reach the beaches. All the four beaches — Kudle, Om, Half Moon and Paradise — lie in the south of Gokarna Beach. These beaches are best accessible through short treks lasting between 20 mins to an hour. So, in order to reach Kudle Beach, you have to move towards Maneshwara Temple and then to Kudle. As it's quite hot during the day, it's recommended to carry enough of water. Gokarna offers a short trek to Bungle Gudda; it's a hill accessible from the town centre. Once here, you can have the spectacular views of the temple town, the sea, hills and forests.
Experience trekking in moonlight!
This could be one of the best treks, you could have ever experienced in your life. Yes, you can enjoy night trekking in Gokarna. A trek from Gokarna Beach to Paradise Beach on a full moon night, leaving behind the silvery sands of Kudle and Om, is an exhilarating idea. It's amazing to see to the reflection of the moon in the waters, from the rocky cliffs along the way. However, it's important to take a few precautions before the trek like trek in a group of six or more, carry torches, snacks and water, and go with someone who has experienced this trek before.
Indulge in Shopping!
Gokarna cannot be expected to have branded stores. And in fact, some local shopping is always good. The market in Gokarna means a street with all sorts of colorful shops selling souvenirs like brass lamps and trishuls. You can also get some really nice decorative items made of seashells, here. Kallusakkare, a kind of sugar candy, is the best thing to buy from here.
Enjoy kayaking!
Yes, kayaking is possible in Gokarna at OM Beach. If you wish, then you have to contact the authorities of Swaswara Resort who organize this water-sport. Usually they charge Rs 300 per person for a 2-hour ride.