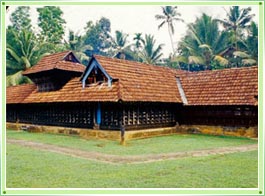 Kerala is known for its rich cultural and traditional background. You get an idea about how much pain the people of Kerala take to preserve their tradition despite so much of commercialism and globalization. The famous temples of Kerala are a living proof about the fact that people in Kerala still value their culture and are fiercely protective about it. Read on further about the various temples in Kerala India in our related sections.
Aranmula Temple
Aranmula Temple, in Pathanamthitta district, is famous as one of the five temple towns of Kerala. There are other temples besides Aranmula, which are devoted to Lord Krishna and are located at Trichambaram, Tiruvarppu and Ambalappuzha.
Guruvayoor Temple
Guruvayoor Temple of Thrissur is a very important and famous pilgrimage. The temple is dedicated to Lord Vishnu, who is worshipped as Lord Krishna, an avatar of Lord Vishnu. The town where this temple is located is known by the name of Thrissur Guruvayoor.
Sabarimala Temple
Located at a height of almost 1000 meters above sea level on the Sahyadri ranges in Western Ghats, lies one of the most important shrines of India known by the name of Sabarimala.
Padmanabhaswamy Temple
Padmanabhaswamy Temple, Trivandrum is an architectural wonder and a magnificent temple that is sure to amaze you. Situated in the heart of the city, the massive structure has a staggering 100 feet high "Gopuram", the main temple tower.