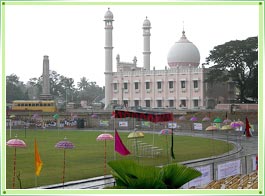 The capital city of Kerala, Trivandrum city is known as the gateway of one of the most beautiful states in India. Located on the south west coast of India, this tropical paradise is known as "God's own country" and for the right reasons. Lush green landscapes interspersed with crystal clear backwaters make this state the most visited tourist destination. The state maintains its traditional heritage even in the modern century and Trivandrum tourism industry is increasing by the moment. Also known as Thiruvananthapuram, your travel to Trivandrum will be one experience that you wouldn't forget for the rest of your lives.
Trivandrum has a rich tradition that dates back to almost 1000 B.C. Even today, the past and present are found to exist in perfect harmony in Kerala. Trivandrum has a lot of tourist attractions that are worth visiting and the clean and serene environment makes the whole experience a truly memorable one. The city of Trivandrum is different from other large Indian cities and is a welcome break from the bustling commercial city life. Here, time moves slowly and offers plenty of opportunities to explore this beautiful city, which used to form a part of the ancient capital city of Travancore.
The city maintains its cultural identity and also offers the latest amenities to its visitors. You will find small temples and huge malls on the same street. The city has many museums, palaces and wildlife sanctuaries that are a must visit for anyone traveling to Trivandrum. So come and see for yourself the beautiful city of Trivandrum and experience the magic.