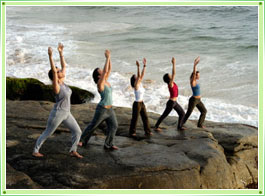 In Kerala, yoga & meditation are practiced and taught by experts to promote healthy living among people. When it comes to rejuvenating yourself, going to meditation and yoga centers at Kerala amidst the serene environment is the best option. Just take a deep breath, close your eyes and sit comfortably in a meditative position. Don't let you mind wander and concentrate on your breathing. After 10 minutes, when you open up your eyes, a new calm would have taken over. Along with Ayurveda, yoga and meditation in Kerala is the most sought after way of living. In fact, it is said that only in Kerala you can find dedicated professionals who devote their entire lives for the well being of others.
Yoga is an ancient science that has existed through time till this day. Many people are taking up this ancient practice of attaining calm and peace to be relieved off their tension and frustration of fast paced life. However, there is no instant recipe for attaining the benefits of yoga. In order to benefit from this practice, one needs to put in sincere efforts. The sages in ancient India used to meditate for years together, oblivious to their surroundings.
These exercises if done the right way, are very helpful in honing up concentration levels and help in the attainment of peace and tranquility. You can see results almost immediately if you put in sincere efforts. Just the mere glow on your face will pull people towards you like a magnet. Not just the glow, your body will be free of most ailments and will be more flexible than ever before.
Meditation is not just about concentration, it is concentrating while freeing your mind off unwanted thoughts and finally reaching a stage where there is just silence, total emptiness. It cannot be reached immediately. It may take days or even months to attain full concentration and free your mind off disturbing thoughts. Once your mind is alone and clear, you will find yourself reaching a higher level of tranquility.
In Kerala, trained meditation experts try to take you to that higher level of consciousness and make sure when you go back home, you are a different person. Anyone going for an Ayurvedic treatment is prescribed certain yogic exercises and meditation. This is to ensure that along with body and mind, the soul is also cleansed. So get set to be cleansed thoroughly and see life from a whole new perspective.