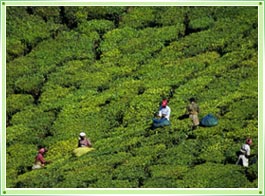 The hill stations of Kerala are a perfect getaway for all those people who want to experience true bliss. Come and rest in the lap of nature and see nature in its best form. The lush green hills covered with misty clouds provide the perfect environment to relax and unwind. The hill stations in Kerala, India are covered with dense tea and spice plantations. The hill slopes provide the perfect opportunity for adventure seekers as one can indulge in trekking, mountain climbing and other forms of adventure sports. So read on further about the various hill stations of Kerala.
Devikulam Hill Station
Devikulam hill station is located at a height of 1800 meters above sea level and is around 16 kilometers from Munnar in Kerala. The Devikulam hill station in Munnar is famous for its mineral water springs and the beautiful landscape it has offer.
Ponmudi Hill Station
Ponmudi hill station, Trivandrum is a beautiful hill station located at a distance of 61 kilometers from the city. An unexplored destination, Ponmudi, Kerala is a tranquil spot located atop hills and is a must visit if you to experience true bliss and feel rejuvenated once again.
Vagamon Hill Station
One of the most beautiful places in Kottayam, Vagamon hill station is a beautiful place and a much sought after tourist destination. The hill station is located at a height of around 1100 meters above sea level.
Idukki
Idukki is a beautiful hill station located in Kerala. Idukki is the place you want to be to unwind and relax and forget all tensions of the world. The name Idukki has been derived from the Malayalam word "idukku", which means narrow gorge.
Munnar
Munnar is one of the most beautiful hill stations of Kerala. Nature blossoms and thrives in full form in Munnar. Munnar is located at the converging point of three mountain tributaries namely, Mudrapuzha, Nallathanni and Kundala.
Thekkady
Thekkady is a beautiful place located in central Kerala. While you travel to Thekkady, you will see nature in its purest form. Uninterrupted rows of lush green trees, chirping birds, velvety hills and stunningly beautiful landscape are what make Thekkady a hot tourism center.
Wayanad
Situated at a height of 2100 meters above sea level in Kerala, Wayanad hill station is one of the most charming and calm hill stations of Kerala. The lush green vegetation, along with mist-clad hills and pure air will make your travel to Wayanad an unforgettable experience.