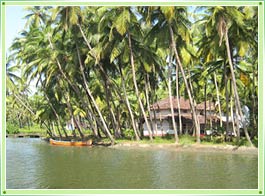 A land that has a rich past and flourishes in legends and myths, Kannur located in Kerala is a small and a beautiful city. Far away from the bustling city life, nestled away in the northern most corner of Kerala, is this enchanting city of Kerala. If you want to experience the beauty of India in Kerala, traveling to Kannur would be the best option. The tourism in Kannur is fast catching up, as it is one of the most preferred destinations in Kerala. Check out our related sections that tell you more about the attractions of Kannur.
The Lakshadweep Sea washes the golden sands of shores of Kannur in the west. The scenery is absolutely spectacular. The turquoise blue water, coconut fringed shoreline and lush green landscape, all make this beautiful city of Kannur the most visited place in Kerala. The place has a rich historical past and one can see the beautiful merging of the past with the present.
In our related sections, you shall find information regarding how to reach Kannur, the various tourist attractions that are worth visiting, places that can be visited through excursions from Kannur along with information on beaches, forts and famous wildlife sanctuaries. So come to Kannur and surrender yourself to the untouched beauty of nature.