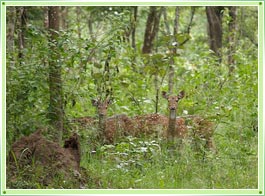 Established in the year 1984, Aralam wildlife sanctuary of Kannur is located at a distance of 60 kilometers from Kannur. It is spread over a small area of 55 square kilometers. Aralam national park is situated on the slopes of the Western Ghats. The elevation gradually increases from 50 meters to 1145 meters. The highest peak over here that rises to a height of 1145 meters is known as Katti Betta. The lush green slopes and the thick forest cover make it the perfect home for the numerous species of birds and animals that live here.
The sanctuary receives an annual rainfall of around 3000 mm. The best time to visit the place is October to June. The monsoons last from June to September. This beautiful sanctuary is situated near the Central State farm, which was established by the Government of India in the year 1971. This farm is spread over a vast area of 3060 hectares and is one of the main production centers of crossbred coconut seeds in India.
The sanctuary houses a wide variety of flora and fauna. Among the evergreen plants, one can find species like Calophyllum, Cullenia, Elatum and Vellapine among others. Among the semi-evergreen variety, one can find trees like Cinnamomum, Hopea, Mallotus, Zeylanicum and Philippinensis. The animal kingdom flourishes in animals like mouse deer, wild boars, elephants, Indian bison, leopards, jungle cats and various types of squirrels. Apart from the big animals, one can find many snakes and birds in this sanctuary.
How to Reach Aralam Wildlife Sanctuary
Air
The nearest airport is Karipur airport, located at a distance of 71 kilometers from the sanctuary.
Rail
The nearest railway station is at a distance of 35 kilometers from this sanctuary.
Roads
The sanctuary can be reached from anywhere in Kerala and Kannur as it well connected by a wide network of roads.