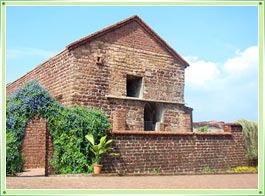 Also known as the Kannur fort, the St. Angelo's fort of Kerala is a massive fort built by the first Portuguese Viceroy, Don Francisco De Almeida. It was constructed in the year 1505. St. Angelo's Fort is a protected monument today as declared by the Archaeological Survey of India. St. Angelo's fort of Kannur has changed many hands before finally being captured by the British in the year 1790.
The fort is a magnificent structure with massive walls and a deep moat. A mesmerizing view of the Moppila Bay never fails to enthrall visitors. The fort is situated very close to the sea and is separated from the sea by a strong sea wall. One can also get a great view of the Dharmadam Island that is located at a distance of 100 meters from the shore. The bay is a modern fishing harbor that is equipped with the latest technology that is required in the fishing industry.
How to Reach St. Angelo's Fort
By Air
The Karipur Airport is located at a distance of 93 kilometers from the fort.
By Rail/ Train
The Kannur railway station is located at a distance of 3 kilometers from here.
By Road
The place is well connected by a wide network of roads that make the fort accessible from anywhere in Kerala.