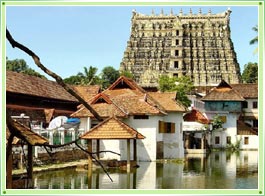 The rich tradition and culture of Kerala has resulted in numerous places of worship in Kerala. These religious places of Kerala can also be called as Kerala pilgrim centers as most of them have become important pilgrimage with time. So read on further about the major religious places of Kerala. Click on each one given below to know further about that pilgrimage.
Aruvikkara Pilgrimage
Another important pilgrim center in Trivandrum is the Aruvikkara pilgrimage. This pilgrimage is located at a distance of 16 kilometers from Trivandrum. Aruvikkara pilgrim center, Kerala is a serene picnic spot and many tourists visit this place for peace of mind.
Aruvippuram Pilgrimage
Located at a distance of 24 kilometers from Trivandrum, Aruvippuram pilgrimage is an important pilgrim center of this place. Sree Narayana Guru built this temple on the banks the river from which the place derives its name.
Guruvayoor Temple
Guruvayoor Temple of Thrissur is a very important and famous pilgrimage. The temple is dedicated to Lord Vishnu, who is worshipped as Lord Krishna, an avatar of Lord Vishnu.
Kodungalloor Pilgrimage
Kodungalloor is an important place in Thrissur and is famous for its pilgrimage centers. It is an important tourist attraction and many people visit this town where it is said that the apostle of Jesus Christ is said to have landed when he came to India.
Ochira Pilgrimage
The Ochira pilgrimage in Kollam is an important place of worship in Kerala. The most striking feature of this unique pilgrimage is that there is no idol or deity that is worshipped here.
Sabarimala Temple
Located at a height of almost 1000 meters above sea level on the Sahyadri ranges in Western Ghats, lies one of the most important shrines of India known by the name of Sabarimala.