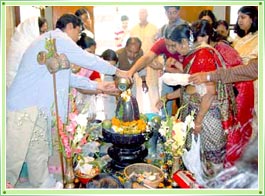 Kerala is a land of mixed religions and has a variety of festivals to boast of. Some major festivals of Kerala are celebrated throughout India. Some Kerala festivals are unique to the state. Irrespective of their religion and caste, people of Kerala celebrate these religious festivals in Kerala with much pomp and joy. On the morning of a typical festival, the houses are thoroughly cleaned spic and span from top to bottom. Everyone takes a bath early in the morning and wears new clothes. The elders of the house prepare yummy food items and perform a small ceremony in the honor of the festival. Colorful designs with flowers are made outside the home just at the entrance. The kids of the household make these designs and decorate it beautifully. Some of the common festivals celebrated in Kerala are given below.
Diwali
Diwali, also known as "Deepawali", is the festival of lights. It is celebrated with much joy and fervor all over the country. In Kerala, everyone irrespective of their religion and caste celebrates this festival. People light small earthenware lamps outside their homes and also put up glittering electric lights. This festival marks the return of Lord Rama to his home after 14 years of exile and victory over the demon king Ravana.
Easter
Easter is celebrated with much enthusiasm and joy among the Christians in Kerala. The Christians in Kerala celebrate Easter as it is celebrated all around the world. People recognize this day as the day when Jesus Chris resurrected. Easter usually falls in the month of March or April. Churches are decorated beautifully and people go on midnight masses in large groups.
Christmas
Christmas is celebrated with much joy and fervor in Kerala as it is in rest of the country. People decorate Christmas trees in their homes, bake cakes and go to churches to sing carols and pray. Each and every household in Kerala prepares a feast in the honor of the festival and people dressed as Santa Claus make the atmosphere livelier.
Eid
The Muslims in Kerala celebrate Eid with much joy and gaiety. Every Muslim household is decorated beautifully and elaborate feast is prepared. The Muslims go to mosques and offer prayers and often visit their neighborhood to distribute sweets.
Mahashivaratri
All Hindus in Kerala celebrate the festival of Mahashivaratri. The festival is celebrated to commemorate the day when Lord Shiva consumed the pot of poison to save the world from destruction. Though he revived, the poison gave his skin a bluish tinge. It is to celebrate the victory of lord Shiva to save the world from getting destroyed that Hindus religiously celebrate Mahashivaratri.
Navaratri
Navaratri is celebrated among the Hindus in Kerala as it is celebrated all over India. It is known by different names in different parts of India. This festival is usually celebrated for nine days. In Kerala, it is called Saraswati Puja. Children who go to school are taught to worship books and write alphabets with their finger in a tray of rice.