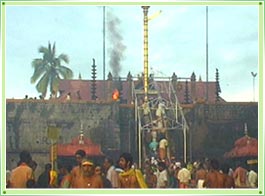 The Sabarimala festival is celebrated during the months of November-January. The Sabarimala temple festival of Kerala is celebrated in the honor of Lord Ayappa. Sabarimala is a renowned pilgrimage in Kerala and is famous all over the world. In Kerala, Sabarimala festival is attended by thousands of devotees who cover huge distances to reach the holy shrine. The Sabarimala temple is located atop a rugged hill in the Western Ghats.
The devotees throng the temple in thousands. They walk barefoot through forests and uneven paths to reach the temple. All devotes observe strict fast and devote themselves purely to God for 40 days before taking on the trip. They do not shave, eat selected food, stay away from vices like smoking and drinking, sleep on the floor, stay away from women and family and wear a black cloth around their waist as a symbol of going to the temple. While climbing, all devotees visiting the temple are supposed to carry an offering of coconuts, camphor, ghee and rice.
On the way to the temple, there is a river where the devotees are supposed to take a dip. It is said that people who take a dip in this river while going to Sabarimala are cleansed of all their sins. Also, devotees are supposed to pay a visit to a temple dedicated to a Muslim God, who is supposed to be a close friend of Lord Ayappa. On the day of Makara Sankranti, a glowing speck of light is spotted on the hill just opposite the temple. This glowing flame is supposed to be very auspicious and devotees break into thunderous chanting of Lord's name on seeing this flame. Women (under the age of 50) are not allowed in the temple.