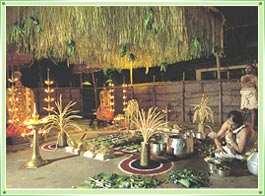 Onam is the most important and widely celebrated festival in Kerala. Each and every native of Kerala, regardless of his or her religion, celebrates Onam with an equal zeal. In Kerala, it is thus regarded as a unifying festival and can be called the state festival of Kerala. Onam is the most important harvest festival of Kerala and itís also believed that King Mahabali, at the time of the festival, comes to visit and bless his people. Onam attracts thousands of people from nearby states as well to catch a glimpse of the grand celebration of this vibrant festival. It is celebrated in the Malayalam month of "Chingam", which falls roughly between the end of August and beginning of September.
The festival celebrations can range from 4 to 10 days. Each day has a variety of activities to keep spirits up. These activities usually begin with worshipping the Lord in the morning to much lighter activities like singing, dancing, indulging in pastimes like sports, snake boat races, attending theatre plays and cooking lip-smacking food. The people of Kerala are dressed in their best clothes and the kids decorate the threshold of their houses with "Pookalam", which means making beautiful designs on the ground with flower petals. It starts on day one itself, making the basic design with the flowers, and on subsequent days, more flowers (different ones) are added to the Pookalam each day. On the last day of Onam, the Pookalams in all households take a giant form.
In fact Malayalis all over the world celebrate this festival, as it is a very important festival to them. The most important day in this festival is the day of Thiruvonam, last day of the festivities. On this day, an elaborate feast known as Onasadya is prepared in every household. No one misses the feast for anything in this world. Served on a banana leaf, Onasadya meal comprises of 11 to 13 different dishes with all four kinds of tastes: sweet, salty, sour, and spicy. And each of the dishes is served in a distinct order. Traditionally, Onasadya is an all vegetarian meal.
The main attraction of
Onam festival
however, is the snake boat races, also known as Vallamkali, that take place at the Pamba River in Aranmula. Watching 30 crafted Chundan Vallams, or snake boats, each loaded with a crew of 150, in a breathless race to the finish is a sight to behold, and definitely to be witnessed at least once in a lifetime. Thousands of people, from all over India and abroad, gather around the river and cheer endlessly for their favourite boat. With all witnessed, said and done, the time to spread one final cheer and of course, gorge on yummy food, the festival takes one and all in its grip.