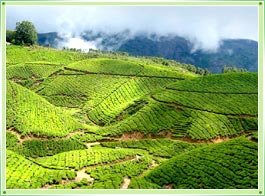 Munnar is one of the most beautiful hill stations of Kerala. Nature blossoms and thrives in full form in Munnar. Munnar is located at the converging point of three mountain tributaries namely, Mudrapuzha, Nallathanni and Kundala. Nestled between beautiful hills and lush green valleys is the scenic locale of Munnar. Your Munnar travel will be definitely worth the time and efforts you are devoting. Anyone visiting India must travel to Munnar, Kerala. This place was a favorite among the British when they ruled India. In fact, the bungalows they lived in so many years back are still maintained properly and people still live in them.
Munnar is famous for its tea gardens and plantations. So much that it has an entire tea museum dedicated just to the refreshing beverage, tea. This museum houses some fascinating antiques and artifacts related to the growth and evolution of the tea plantations in Munnar. The highest peak of south India lies in Munnar and is called Anaimudi. It goes upto a height of approximately 2700 meters. This lovely peak is a favorite place of those interested in trekking and rock climbing. Also, one can go for long walks on the undulating pathways of the hills.
A popular hill station in Munnar is the Devikulam hill station. The name literally means "pond of Goddess". The place has some breath taking locales and the scenery is enough to make you miss a heartbeat. Munnar is often referred to as "Switzerland of India" because of the beautiful locales and scenic landscape. Make it a point that you visit Munnar while your travel to Kerala, India. We assure you it will be worth every minute you spend there.