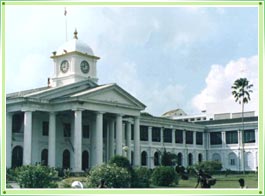 Kerala has a rich historical heritage, which is pretty much evident from the number of famous monuments of Kerala, India. A major testimony of the history of Kerala, these monuments are worth visiting as they not only interest history enthusiasts but also are a photographer's paradise. Given here are the various monuments that are worth visiting in Kerala. Click on each of them for further information.
Fort Kochi
The Fort of Cochin is a small community in itself. Since it is a natural harbor and one of the most important trade centers in south of India, fort Kochi is one of the most important towns in Kerala.
Guruvayoor Temple
Guruvayoor Temple of Thrissur is a very important and famous pilgrimage. The temple is dedicated to Lord Vishnu, who is worshipped as Lord Krishna, an avatar of Lord Vishnu.
Jewish Synagogue, Cochin
The Jewish Synagogue in Kochi was built in 1568 AD. In Cochin, Synagogue Jewish Monument is the oldest existing synagogue among the common wealth countries of the world.
Kunchan Smarakam Fort
Located 30 kilometers from Palakkad, the Kunchan Smarakam fort of Palakkad Kerala is not a usual historical monument. It is a memorial built as a tribute for the famous poet of Kerala, Kunchan Nambiar.
Napier Museum, Trivandrum
Named after the governor general of Madras, John Napier, the Trivandrum Napier museum is located in the heart of the city. The museum is equipped with natural air conditioning and provides a glance of the rich historical legacy of Kerala.
Padmanabhapuram Palace
Located in a small village called Padmanabhapuram, at a distance of 65 kilometers from Trivandrum, Padmanabhapuram Palace is a magnificent palace that speaks volumes about the ancient architecture of Kerala.
Tipu Sultan Fort, Palakkad
The Tippu Sultan Fort, Kerala is located at the heart of Palakkad town. It is also called as the Palakkad fort. Regarded as one of the best preserved forts of south India, Tipu Sultan fort Palakkad was constructed way back in the year 1766.