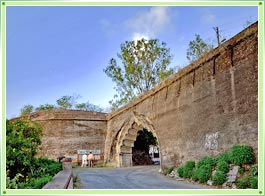 The Tippu Sultan Fort, Kerala is located at the heart of Palakkad town. It is also called as the Palakkad fort. Regarded as one of the best preserved forts of south India, Tipu Sultan fort Palakkad was constructed way back in the year 1766. Today, fort of Tipu Sultan is a protected monument and is looked after by the Archaeological Survey of India. Even today, the tough walls of the fort speak volumes about the stories of courage and bravery of Tipu Sultan, also known as the "Lion of Mysore".
Tipu Sultan is best remembered for the battles he waged against the British colonialism in India. He was an able warrior and a multi talented personality. Tipu sultan's father, Haider Ali, built the fort. It came to be known as Tipu Sultan's fort after lost his life fighting the British troops over here. The fort was supposed to facilitate communication between the Malabar Coast and Coimbatore. The British captured the fort in 1784 after an 11-day battle. After some years, it fell in the hands of Kozhikode Zamorin but was again recaptured by the British in 1790. After a tough battle, Tipu Sultan lost his life in the year 1799, and hence the fort has been known by his name.
How to Reach Tipu Sultan Fort Palakkad
By Air
The nearest airport is at a distance of 55 kilometers in Coimbatore. The Cochin International Airport is at a distance of 140 kilometers.
By Rail
Located at a distance of 5 kilometers, the Palakkad railway station is the nearest station to this fort.
By Road
The fort is easily accessible by a wide network of roads as Palakkad is well connected to the rest of Kerala and can be accessed from anywhere.