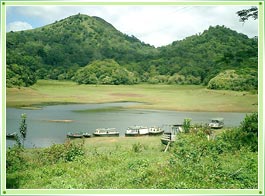 Thekkady is a beautiful place located in central Kerala. While you travel to Thekkady, you will see nature in its purest form. Uninterrupted rows of lush green trees, chirping birds, velvety hills and stunningly beautiful landscape are what make Thekkady a hot tourism center. Thekkady is famous for its Periyar wildlife sanctuary, which houses some really exotic species of birds, animals and plants. Thekkady is also an important trade center and exports a variety of rare Indian spices. A visit to Thekkady is a must if you are traveling to India.
Thekkady is famous for its tea, coffee and pepper plantations. It has unending plantation gardens and one can literally smell the aroma of spices in the air. A visit to India's best wildlife sanctuaries will give you an experience that you won't forget for the rest of your lives. Make sure you take a cruise along the Periyar River for that mind-blowing experience.
The crisp and cool air will work wonders not just for your physical well being, but your soul too. All in all, it will be an experience that will have you transferred to Paradise every time you think of it. So get set to visit Thekkady, a place that will amaze you beyond belief.