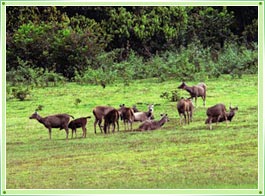 Periyar Wildlife sanctuary is one of the most beautiful wildlife sanctuaries in India. Located in Kerala, Periyar national park is famous for the varied wildlife it houses. The exotic Periyar sanctuary is situated in the city of Thekkady and synonymous with name of the city. The best time to visit Periyar National Park, Kerala would be from September to May when the weather is favorable and most animals are found near the artificial lake, which is 100 years old. It is a good idea to avoid the monsoons. The place experiences heavy rainfall and you wouldn't want to experience monsoon in Kerala inside the sanctuary.
Though the sanctuary houses many species of wild animals and birds, the most famous are the wild Asian elephants. Also known as Indian elephants, it is sheer thrill spotting them in the wild, roaming around in large herds. The best way to explore Periyar is by taking a boat ride around the lake. The forest is really thick and also houses tigers. You can always look out for pug marks or if you are lucky, you may just catch the big cat feasting on its freshly hunted prey behind thick bushes. The best time to go for a walk through the jungle is early morning or dusk. The frequently visited spot by the animals is the lake. You can spot many species of deer, elephants, monkeys, etc. at the lake. Apart from the wild animals, there are many species of birds like cormorants, kingfishers, darters and the great Malabar hornbill among 200 other species. A number of reptiles like snakes and monitor lizards can also be found. The snakes are both poisonous and non-poisonous, so watch out! You can find the famous King Cobra in this sanctuary.
The wildlife park also boasts of a variety of plants and trees. The forest has deciduous type of vegetation, which gives the forest a lush green look. It is as if a blanket of velvety trees has enveloped the place. The park also has many spice gardens around where exotic species of plants are grown under controlled conditions. Hire a good guide and you will be amazed to know the medicinal values of each and every plant and tree and learn that nature has so much to offer. Another quick getaway near the Periyar is the Cardamom hills. It is a beautiful spot and a great place to unwind and feel at one with nature. So visit Periyar Sanctuary and feel the magic take over.
How to Reach Periyar Wildlife Sanctuary
By Air
Nearest airports are Madurai Airport (140 km) and Cochin Airport (200 km).
By Rail
Railway station at Kottayam is 120 km away. Trains are also available from Cochin and Madurai.
By Road
Buses are available from nearby town of Madurai and Kumily (located just outside the sanctuary. Taxis can also be hired.