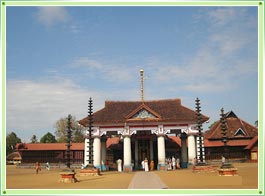 The place Kottayam derived its name from two words, "Kotta" and "Akam", which means inside a fort. One of the most beautiful backwater destinations of Kerala, Kottayam is very popular among tourists and many people travel to Kottayam just to experience the serene backwaters. A major Christian center of Kerala, Kottayam is famous for its ruins of palaces and forts. Traveling to Kottayam should be an unforgettable experience for you as one glimpse of the place is enough to mesmerize you. The lush green paddy fields, the mist covered hills and the crystal clear backwaters are what turn this place into a magical land.
The place is fondly known as the "land of latex, letter and lakes". This is because Kottayam has extensive rubber plantations, boasts of the highest literacy rate and is filled with meandering streams and lakes. Kottayam is an important trading center of Kerala as many small and big enterprises are set up here. But what makes it a truly outstanding tourist destination are the enchanting backwaters. The calm and clear water, lined with coconut trees and the melodious chirruping of birds make this destination a must visit for anyone who is visiting Kerala.
So pack your bags and come to Kottayam, a place where even time stops to admire its beauty.