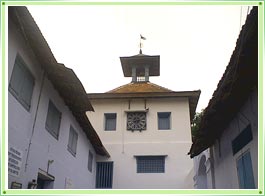 The Jewish Synagogue in Kochi was built in 1568 AD. In Cochin, Synagogue Jewish Monument is the oldest existing synagogue among the common wealth countries of the world. The Synagogue Jewish Monument stands out as an evidence of mutual harmony in the state for centuries. The synagogue (Jewish place of worship) still has rolls of Old Testament and also the old copper plates that have records of the grants and privileges bestowed upon the rulers of Kochi.
The synagogue is covered with beautifully painted Chinese tiles. The amazing fact is that no two tiles resemble each other. The interiors are beautifully decorated with Belgian chandeliers and grand lighting. The synagogue has a collection of the souvenirs that were presented to the kings of Kochi as a token of love and affection. These souvenirs include the beautifully carved crowns in wrought gold and silver that were gifted by various patrons who visited the place. The synagogue is an important symbol of the religious and cultural heritage of the Jews. One can visit the monument on all days except Saturdays and Jewish holidays.
How to Reach Jewish Synagogue, Cochin
By Air
The nearest airport is the Cochin International Airport from where this place is easily accessible.
By Rail
Ernakulam Junction is the nearest railway station, which is located at a distance of 10 kilometers from this place.
By Roads
Mattancherry, Cochin is well connected by roads and is easily accessible from all nearby towns and cities.