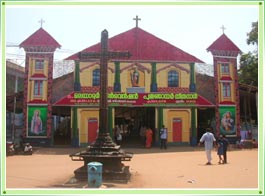 There are many places to see near Kochi. You can head off to these places as a part of excursions from Cochin. From Cochin, excursions to nearby places are a good way to pass time as well as learn about Kerala from a closer angle. Given here is a list of places around Cochin that are often visited by tourists to get the real essence of Kerala.
Chendamangalam
This place is situated at a convergence point of 3 hills and 7 inlets and is a geographical wonder. The place is a photographer's paradise and houses some really wonderful architectural works. The Paliam palace is an architectural marvel and houses the hereditary Prime Ministers to the Maharajas of Cochin. Apart from this, you will find temples, mosques and churches together on one piece of land, symbolizing the peaceful coexistence of religions in this place.
Malayatoor
Malayatoor is located around 50 kilometers from Cochin. It is famous for the Catholic Church located on the Malayatoor hill and is dedicated to St. Thomas. Every year, thousands of worshippers embark on a pilgrimage to the shrine to take part in the annual festival of the Church, which falls during the months of April or May. It is believed that St. Thomas prayed in this sacred place.
Bhoothathankettu
Located at a distance of 50 kilometers from Cochin, this beautiful patch of unexplored land lies near the famous Dr. Salim Ali Bird Sanctuary. This lush green haven is an ideal spot to hang out with family and unwind yourself in nature.
Kaladi
Kaladi is located around 35 kilometers from Cochin and is the birthplace of the great Adi Shankararcharya, who was a great philosopher in ancient India. It is said that a crocodile caught hold of his leg and left it only when his family agreed to Shankararcharya's decision to become a saint.
Kodanad
This place is around 30 kilometers from Cochin and is located in the high ranges on the southern bank of the Periyar. Kodanad is renowned as the largest center for training elephants in South India. Elephants are specially trained here for riding and do work that humans can't, like transporting logs, exploring the jungles, etc. Infact, there is a mini zoo here for tourists that houses wild animals.
Thattekkadu Bird Sanctuary
This sanctuary is located around 20 kilometers from Cochin. Dr. Salim Ali, the famous ornithologist of India, discovered it among the evergreen forests of Cochin. The sanctuary houses indigenous and rare birds like the Malabar gray-hornbill, woodpecker, rose-ringed and blue-winged parakeet, Ceylon frog-moth, Rose-billed roller, etc. The sanctuary comes to life during the migratory season and monsoons as many species of birds come here to take refuge.