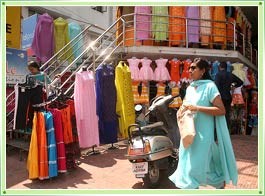 Cochin is the second most important and commercialized city of Kerala. Shopping in Cochin shouldn't be a problem as there are many popular shopping areas in this place. Though the concept of malls is relatively new in Cochin, you will find all branded names in terms of clothes in Cochin. So read on further and know what to buy in Kochi.
The most important commercial center in Cochin is at the M.G road, which is short for Mahatma Gandhi road. Here, you can buy stuff ranging from clothes to cosmetics to knick-knacks. Some of the most popular brands that you will find here are Allen Solly, Louise Philippe, Bennetton, Arrow, etc. The road is lined with small and big shops and many glittering malls. The most popular items that are bought by tourists are handicrafts, spices and nuts. In handicrafts, the most commonly used raw materials are coir, brass, copper, bamboo, etc. MG road is famous for its jewelry showrooms and the most popular ones are Bhima, Josco and Alukka jewelers.
One can get an amazing collection of readymade items on the Marine Drive road. There are many duty-free shops on this road that sell items like cell phones and other electronic items at reasonable prices. There are many fast food joints and cafes on the roadside and one can always stop there to munch on some eatables while on your shopping spree. Another popular area for shopping is the Broadway road. The area is characterized by narrow roads, quite ironical to its name! One can buy varieties of clothes and spices here. So get set and indulge in the guiltiest pleasure of all!