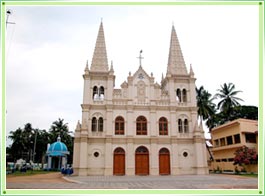 There are a number of tourist attractions in Cochin and there is no dearth of Cochin attractions. We bring you a list of interesting places to visit in Cochin that can be visited as a part of Cochin sight seeing tours. So plan accordingly and decide what to see in Kochi. The place has a distinct European charm to it. The houses built by the British rulers still exist there and add a mystical charm to the entire place. So read on further to know more about tours o Kochi, Kerala.
A visit to Fort Cochin is a must if you want to learn about the European heritage of Cochin. The Santa Cruz basilica is a very important landmark of Cochin and has much historical significance and importance. Another church that is historically significant is the St. Francis church, which is the oldest existing European church in India. It was built during early 16th century and it is said to be the temporary burial place of the great Vasco Da Gama. Another fascinating thing to look out for in Cochin is the Chinese fishing nets that are lined up on the shores and ensure an immense catch.
For kids, there is the famous amusement park called Veega Land. This beautiful amusement park is located on the top of a hillock amidst scenic beauty and lush landscapes. There are many water rides and engaging games to keep kids and adults amused. The musical fountain shown in the built-in theater is entertaining and very enjoyable. Another place that is enjoyable is the Children's Park. The park is located in the heart of the city and is easily accessible from anywhere around the city.
A popular place to visit in Cochin is the Jewish synagogue, which was built in 1568 A.D. Though the Jewish community is now a minority, the church is well preserved and one can see the beautifully hand painted Chinese tiles that adorn the church. This synagogue is located near the Dutch Palace, which is yet another popular tourist attraction. This palace is located on a small island just off the coast of Cochin and is accessible by the boat services that are provided for tourists. The Dutch palace is now a heritage hotel in Cochin and is a beautiful sight against the backdrop of the blue sea. Cochin has many places like these to be visited. They are discussed in detail in our related sections.