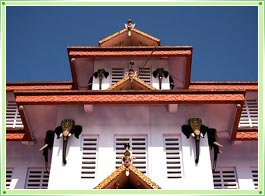 Located at a distance of around 20 kilometers from Kannur, the Parassinikadavu Sri Muthappan Temple is a very popular pilgrim site and is visited by many devotees on a daily basis. This temple is supposed to have been built by the people of this town who felt the divine presence of Lord Shiva amongst them in the form of a small child. After various miraculous incidents, they built a temple that came to be known as Sri Muthappan temple.
This magnificent temple believes in the principle of secularism. People irrespective of their caste, creed and religion can come to this temple to pray. The motto of this temple is "Vasudaiva Kutumbakam", which means the whole world is one family. It is located on the banks of Valapatanam River and provides a visual treat to anyone visiting the temple. Along with spiritual satisfaction, one also gets to relax in the serene surroundings of the temple.
People come here from far and wide to seek blessings here. The temple conducts a ritual on a daily basis that is known as Theyyam. In this ritual, men wear masks and colorful costumes and perform this art form. This ritual symbolizes the conflict between good and evil. It gives the message that good shall always triumph over evil.
How to Reach Parassinikadavu Sri Muthappan Temple
By Air
The Karipur airport is located at a distance of 93 kilometers from this temple.
By Rail/Train
The Kannur railway station is located at a distance of 20 kilometers from this temple.
By Road
This temple can be easily reached from anywhere in Kerala as Kannur is well connected by a wide network of roads.