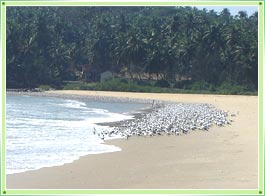 There are a variety of places to see near Kannur. This beautiful coastal is famous for its beaches and the unexplored coastline. By going on excursions from Kannur, you can visit all these places near Kannur that are worth exploring. The outskirts of any town always has something interesting to flaunt apart from the common places that we find inside a town. So read on further and know more about Kannur excursions.
Muzhappilangad Beach
The only drive-in beach of India, Muzhappilangad Beach is one of the most beautiful beaches of Kerala. It is also the longest beach in Kerala. This beach is located at a distance of 15 kilometers from Kannur.
Ezhimala Beach
Located on the northern periphery of Kannur is the lovely Ezhimala beach. The beach is bordered by seven hills from which the beach derives its name. "Ezhi" means seven and "mala" means, "hill". Thus it is called by the name Ezhimala. The hills have bountiful herbs and plants that have rare medicinal value.
Gundert Bungalow
This bungalow is of much historical significance and all admirers of Malayalam consider the Gundert Bungalow as a very respectable place. It is situated at a distance of 20 kilometers from Kannur.
Pythal Mala
Located at a distance of 65 kilometers from Kannur is a scenic cliff called Pythal Mala. It is located at a height of around 1372 meters above sea level. The cliff provides an ideal place to go for trekking and rock climbing. On top of the cliff is a watchtower that provides a breathtaking view of the valley.