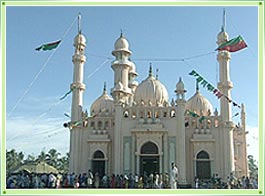 There are many places to see near Thiruvananthapuram. These places can be visited by going on excursions from Trivandrum. Read on further to know about these places in our section on Trivandrum excursions.
Anchunthengu Fort
This fort was built in the 17th century by the East India Company and is known to be the first major trading station on the coast of Kerala.
Aruvikkara
Located on the banks of Karamana River, Aruvikkara is a pilgrimage as well as a recreation center. There is a temple over here that is dedicated to Goddess Bhagawathy, the symbol of female power.
Beema Palli
This place is an important pilgrim center for the Muslims and is dedicated to Beema Beevi, a Muslim lady who was believed to have divine and miraculous powers.
Vettukad Church
This church is also known as the Vettukad Church and it attracts thousands of devotees from all over the country. The annual festival celebration in the church is known as "Feast of Christ, the King".