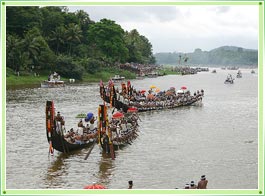 Trivandrum is full of interesting places that are worth visiting. They are not just tourist attractions in Trivandrum, but they stand as a symbol of Trivandrum's rich and unique cultural heritage. These places can be visited as a part of Trivandrum sight seeing tours. So read on further for information on what to see in your tour to Thiruvananthapuram.
Aranmula Boat Race
Held every year in the months of August - September, this famous boat race is major crowd puller and is held during the Aranmula Temple festival.
Koyikkal Palace
This ancient palace is located at a distance of 18 kilometers from Trivandrum and dates back to the 15th century.
Napier Museum
If you want to know what a typical Nair family looks like, visit this museum that has a model of the traditional Nair family in Kerala.
Varkala Beach
This beach has a seaside resort and is also an important pilgrimage of the Hindus. The beach has mineral springs that rise in a splendid way from the coasts. A major attraction here is the 2000-year-old Janardhana Swami temple that attracts many tourists.
Agastyarkoodam
A towering peak in the Western Ghats, the Agastyarkoodam rises to a height of 1868 meters and looks like a sharp cone. The peak is accessible by foot and trekking on this peak is a great experience.
Akkulam Lake
Situated at a distance of 3 kilometers from Ulloor junction of Trivandrum, this lake is the biggest Children's park in Kerala and also has boating facilities.
Aruvippuram
Located in a scenic location in Trivandrum, this place is an important pilgrim center as well as a picnic spot.
Kuthiramalika Palace Museum
This palace has been converted into a museum and is a classic example of traditional Kerala architecture.
Neyyar Dam
Located near the lofty ranges of Western Ghats, this dam is a popular picnic spot and the catchment area of the dam is a picturesque spot to unwind and relax.
Paripally Gajamela
Located at a distance of 48 kilometers from Trivandrum, Paripally is known for its elephant procession where some 50 elephants are beautifully decorated and paraded in the temple festival that takes place during February - March.