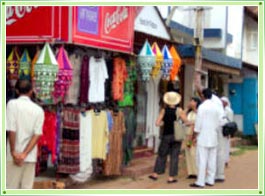 Your Trivandrum trip will remain incomplete if you don't go shopping in Trivandrum. There are many things and souvenirs to buy in Trivandrum shopping places. Trivandrum, being the capital city of Kerala, is the hub of shopping. The rich traditional and cultural heritage only makes it better. You wouldn't be left wondering as to what to buy in Thiruvananthapuram.
The local craftsmen of Kerala are ace sculptors and one can find some very beautiful sculptures and idols in local markets that are carefully packed if you are planning to go long distance. Trivandrum is well known for its coir products and you can buy small rugs, doormats, etc. that come in a variety of colors and sizes. One can find small souvenirs in brass and metal that has beautiful engravings and carvings. A unique craft item here is items made out of coconut shells, which are quite popular among tourists. But the most popular item that sells like hot cakes are the miniature Kathakali masks that are available in bright colors and different shapes.
Trivandrum is full of shopping places and tourists throng these places to buy souvenirs and other local handicrafts. The most popular places where you can indulge in a shopping spree are at M. G. Road, Chalai, Attukal Shopping Complex, Power House Road, Narmada Shopping Complex and Kedaram. Most of the handicrafts emporiums are located along the M.G. Road.