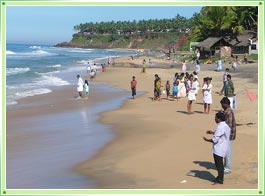 The Varkala Beach of Trivandrum is considered to be one of the most secluded beaches of Kerala. It is located at the north of Trivandrum city at a distance of around 54 kilometers. To enjoy the serene and tranquil surroundings, away from the bustling city, Varkala beach of Thiruvananthapuram is the ideal choice in Kerala. For a truly refreshing experience in Kerala head on to the Varkala beach in Kerala. The swaying coconut trees and the soft water lapping at your feet as you watch the sun go down will mesmerize you completely.
The Varkala beach resort is well known for its natural springs. The mineral water springs in the Varkala beach are well known for their medicinal values. A large number of people come here to drink this water and take a bath in the natural springs that is said to cure many skin ailments. The beach has a 2000-year-old temple that is devoted to Sri Janardhana Swami and is a popular pilgrimage of the Hindus. It is said that the beach is very sacred and if one takes a holy dip in the beach, the soul is cleansed of sins. The beach is also called "Paapanashini" due to this reason.
Every year, the dawn after the appearance of the new moon in the Malayalam month of Karkidakam, numerous people offer "Vavubali/Vavu bali". This offering is supposed to help the souls of deceased ancestors rest in peace. The beach has many resorts where one can stay for a few days and enjoy the calm and composed nature, thus refreshing themselves. The beach is also famous for its Nature Cure Center, which is a famous tourist attraction of this beach.
How to Reach Varkala Beach
By Air
The Trivandrum International airport is located at a distance of 45 kilometers from this beach.
By Rail/ Train
The railway station is at a distance of 3 kilometers from here.
By Road
The Varkala beach is easily accessible from anywhere in Trivandrum as it is well connected by roads.