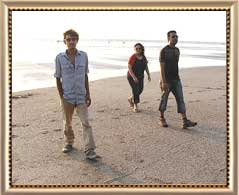 Madh Island Beach is situated along the northwest coast of the Mumbai city of India. One of the unique features of this beach is its rural background, which completely contrasts with the luxurious bungalows that seem to be lining its forefront. Apart from its scenic locales and magnificent natural beauty, it is also known for its rave parties, the parties that are thrown inconspicuously by the creme de la creme of Mumbai.
People belonging to the upper strata of the city come to these parties to shake a leg and have unbridled fun. Madh Island Beach has a long stretch of sandy shore, where you can undertake long walks, play around or just lie down and relax. The peace and calm offered by it seems to take away all your tension and fill your mind with fresh energy. Since the current of the water is very strong and violent, the beach is not recommended for swimming.
Still, Madh Island beach serves as the perfect retreat from the city full of concrete and tensions. You can come here alone or with your closed friends and family members and have lots and lots of fun. Apart from natural beauty, the beach is also known for the Madh Fort, also called Versova fort, situated nearby and the fishing community that resides here. Come here, relax a bit and let your mind wander to the comforting beauty of nature.