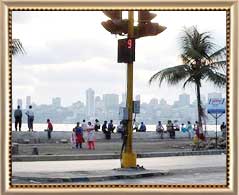 Marine Drive Beach is situated along the shoreline of the Arabian Sea and stretches right from the Nariman Point to the foot of Malabar Hill. The two ends of the beach come across as completely contrasting, with the Nariman Point being a concrete jungle and Malabar Hill being resplendent with nature's beauty. Marine Drive Beach was reclaimed from the Back Bay in 1920 and since then, it has been extremely popular amongst the locals as well as the tourists visiting the Mumbai city of India.
Cool breezes sweeping the beach serve as an excellent relaxant for the body and its cool sands lure you to take long walks. Marine Drive Beach stretches over an area of approximately three kilometers and is very popular amongst kids who come here to run around, play games and have fun. Even couples frequent the place in large numbers to spend sometime in solitude. You will find a large number of hawkers at the Marine Drive Beach, selling delicious street food, local knick knacks, and so on.
The beach is also quite famous for its amazing sunset views. One of the most popular promenades in Mumbai, marine Drive will catch you unawares with its picturesque beauty. The road running along the beach has been termed as the 'Queen's Necklace', because of the spectacular curve of its glittering streetlights at night. Whenever you are in the Mumbai city, make sure to visit this magnificent beach and lose yourself in the fun that seems to be resonating in its surroundings.