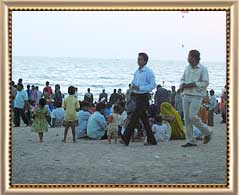 Juhu Beach is the most popular and most visited beach of the Mumbai city of India. A flat beach, it is situated in the heart of the city and remains crowded with visitors round the year. Since Juhu Beach can entered from three different sides, comprising of Vile Parle side, Santa Cruz side and Andheri side, people hardly face problems in reaching there. The clear azure waters of the Arabian Sea continuously touch the beach, in the form of waves.
The gushing waves, sandy shore and enthusiastic atmosphere of the beach are sure to help you in forgetting the mundane tensions of life. The breathtaking view of the sunset offered by the Juhu Beach of Bombay lures visitors to this amazing place. The rays of the setting sun give a beautiful hue to the never-ending water of the sea. As the sun descends softly into the Arabian Sea, the sky assumes a reddish tinge and presents an awe-inspiring sight.
Apart from its beauty, Juhu Beach is also known for being dotted with numerous food shacks, offering lip-smacking Mumbai snacks. The street food served at the stalls comprises of Bhel Puri, Pani Puri, Sev Puri, Chaat, Pav Bhaji, etc. However, if you are one of those who are extremely hygiene conscious, then there are a number of good hotels and restaurants in the vicinity, where you can have the food of your choice.
Juhu Beach is also known to be a favorite haunt of the glitterati of the Mumbai city. Right from models to movie actors to television stars to politicians, everyone counts the beach amongst their favorite jaunts. Even the Juhu locality is home to some of the legendary film stars like Amitabh Bachchan. You can also visit the popular tourist attractions situated near the Juhu Beach, like ISKCON Temple, St. Joseph Church and so on.