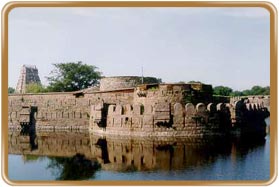 Vellore has a very enriching history. The city has been under the rule of various dynasties right from Pallavas and Cholas to Bijapur Sultanate. All of them have left their imprints on the culture and tradition of this city. These dynasties were known for their patronage of art and architecture and that is why Vellore has quite a few monuments worth visiting and appreciating. We are listing quite a few of them here: -
Government Museum
Government museum of Vellore is actually a museum cum archive. The Government of Tamilnadu maintains this museum that treasures ancient and present day curios relating to Anthropology, Geology and Numismatics. Historical monuments of the erstwhile Arcot district have been depicted through some beautiful frescos.
Jalagandeeswarar Temple
Jalagandeeswarar Temple is situated inside the Vellore Fort only. The temple is renowned for its sculptures and speaks volumes of the exquisite craftsmanship of that period. Many consider the sculpture, in the porch on the left of the entrance, a masterpiece. The temple encloses a big wedding hall that is adorned with elegant relief and monolithic sculptures. The temple was earlier used as an arsenal.
Muthu Mandapam
Muthu Mandapam is nothing but a rock memorial. This has been constructed around the tombstone of Vikramraja Singh who was the last Tamil ruler of Kandy, in the present Sri Lanka. The memorial is just a kilometer off the town near the banks of river Palar.
Vellore Fort
Vellore Fort was built in the 13th century. The fort is a major attraction to the tourists. The fort was the most formidable one during the Carnatic war of 17th century and it was said that it was infallible. This historically famous fort retains the past glory and is still enact along with its ramparts, basements, turrets, posts, and gates. The outer wall of this fort is built of granite blocks where as it is fortified with another wall as well. The fort was the site for the Sepoy mutiny of 1806 that is seen by some as the prelude to the Pan-Indian one that broke out in the year 1857.