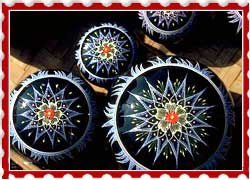 Karnataka is a treasure trove of an extensive array of exquisite art and crafts. These indigenous crafts, reflecting the rich heritage of the state, have survived the ravages of time due to the dedicated efforts of the artisans and sculptors.
The crafts of Karnataka straddle the disciplines of rosewood and sandalwood carving, Gokak dolls, Bidar bidriware, Chennapatna lacquerware and Mysore paintings. Each of these crafts has flourished in distinct regions of the state and has been carefully nurtured by local craftsmen.
While the Bidriware craft took root in Bidar courtesy the patronage of the Bahmani dynasty, the lacquerware craft has been refined by the Chitragar families residing in the fringe villages of Chennapatna.