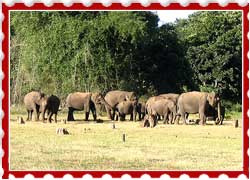 Nature has endowed Karnataka with an extensive wealth of flora and fauna. The verdant forests of Western Ghats are home to most of the exotic wildlife found in Karnataka. Over the years, a number of wildlife sanctuaries and national parks have been created by the government to protect the wildlife from poaching and other hazards.
The sprawling Nilgiri Biosphere Reserve encompasses two wildlife sanctuaries of Karnataka viz., Bandipur National Park and Nagarhole National Park. The Bandipur National Park was declared a Project Tiger reserve in 1973 for the substantial population of the big cats. The Bhadra Wildlife sanctuary is another Project Tiger reserve of Karnataka.
The Bannerghatta National Park is home to a large population Asiatic elephants and is part of the Nilgiri Eastern Ghats Reserve. The Ranganthittu Bird Sanctuary is a paradise for the avian species.