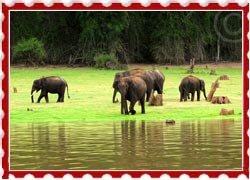 Kabini - a name that is synonymous with elephants, dense forests and yes, a serene river. Yes, this is exactly what defines Kabini. On a more literary note, Kabini is a wildlife sanctuary that earlier used to be the hunting lodge of the Maharajas of Mysore. Nowadays it is better emerging as a weekend getaway from the nearby cities like Mysore and Bangalore, and probably it deserves all this due to its easy accessibility, lush green landscape, picturesque lake and amazing sights of herds of elephants.
Kabini Wildlife Sanctuary that had been a favorite hunting spot for the British Viceroys is, today, recognized as being one of the best wildlife sanctuaries in Karnataka. Spread over 55 acres of forestland, Kabini is 80 kms away from Mysore and 205 km from Bangalore. Kabini Forest Reserve is the abode of a rich variety of flora and fauna. Though particularly known for elephants, Kabini offers no less chance to spot sambar, langurs, chital, bison, sloth bear, crocodile, pythons, tiger and leopard. The Sanctuary also boasts of approx. 250 species of birds.
Owing to spectacular waterfalls, gushing waters of the river Kabini, and acres of greenery, the forests of Kabini are highly enchanting. Ripple-filled waters of Kabini are soothing to the core; in fact, Kabini offers the right vacation to leave behind the mundane routine and spend some time with your own self. If you want to be a little adventurous, then you can indulge in wildlife spotting, bird-watching, boating at Kabini River, an Elephant Safari, or a Jungle Safari. All this and more is awaiting your arrival at Kabini. So, get set ready to go!
How to Reach Kabini
Kabini is celebrated for being one of the best wildlife sanctuaries in Karnataka. It is visited by innumerable tourists and wildlife enthusiasts round the year. Kabini serves as a great weekend getaway destination from Bangalore, at a mere distance of 208 kms. If you're considering traveling to Kabini, then this article would help you in knowing how to reach Kabini Wildlife Sanctuary of Karnataka, India.
Kabini Tourist Attractions
Elephants, elephants and more elephants - this is what we all know is mostly visible in Kabini. The naturally beautiful landscape and water brooks are some other good reasons which attract tourists to this wildlife sanctuary. The Mother Nature has been benevolent to Kabini where forests are blessed with rippling streams, rich flora, amazing fauna and avifauna, to name a few.
Kabini Weather
Throughout the year, the Sun shines brightly in Kabini and probably that's the reason why Kabini experiences warm climate. Its balmy weather round the year makes it an all time favorite destination amongst tourists. The summer months of March till May observe shining sun, and the temperatures hovers between 360 C in daytime
Things To Do In Kabini
Reaching Kabini through roads of Nagarhole, to be welcomed by backwaters joining a thick bamboo forest, is a fun activity in its own. Elephants sauntering around in vast herds engaged in their feeding, relaxing, bathing and frolicking sessions, is a sight worth-seeing. Kabini is the best place to observe the largest congregation of Asian elephants on the earth.