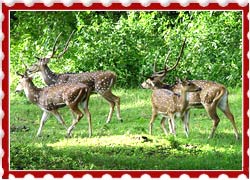 Reputed to be one of the well-managed sanctuaries in India, Nagarhole National Park is a part of the sprawling Nilgiri Biosphere Reserve in South India. Established in 1955, as a sanctuary, it was designated as a national park in 1975. The park was later renamed as Rajiv Gandhi National Park, after the late Prime Minister of India. Spread over an area of approximately 640 sq km, Nagarhole forest originally served as an exclusive hunting ground for the erstwhile Maharajas of Mysore.
Nagarhole, in Kannada, stands for 'Snake River'. The wildlife sanctuary has been so named after the serpentine streams that fork through its rich tropical forests. On its northern confines is the Kabini River and on its southern fringes is the Bandipur National Park. A dam on the Kabini River and its picturesque reservoir demarcates the two national parks. During the dry season (February and May), this artificial lake attracts a large number of animals, making it an ideal spot for sighting wildlife.
Flora
Nagarhole National Park is well endowed in terms of vegetation and flora, which comprises of tropical deciduous forest in the northern and western parts and dry deciduous forest in the south-eastern part. Several shrubs belonging to Solanum, Desmodium and Helicteres are abundantly found but weedy shrubs like Eupatorium and Lantana now dominate. The grassy swamps inside the park have made sure that there is a copious growth of green grass throughout the year.
Fauna
Nagarhole Wildlife Sanctuary is known for being home to the Asiatic Elephant as well as the Royal Bengal Tiger. Apart from that, it also houses predators like leopards, wild dogs, and sloth bears, that too in large numbers. Then, there is a population of ungulates, like gaur, sambar deer, chital (spotted deer), common muntjac, four-horned antelope, mouse deer and wild boar. Amongst the primates in the park are gray langurs, lion-tailed macaques and bonnet macaques. On the hills nearby, you might be able to spot Nilgiri tahrs and Nilgiri langurs.
Avifauna
Nagarhole National Park is a bird watcher's paradise. The park is home to as many as 250 bird species, including both resident and migratory birds, of which the major ones are bee-eater, dove, bulbul, hornbill, peacock, woodpecker, parakeet and a variety of eagle. Apart from that, it also houses a substantial population of reptiles, which include lizards, cobras, crocodiles, kraits, pythons and vipers.
How To Reach Nagarhole
Nagarhole wildlife sanctuary is located in the southern state of Karnataka and is one of the prominent national parks of India. Formerly, Nagarhole used to be a hunting reserve for the Maharajas of Mysore. Kabini River, which flows along the southern frontier of the park, separates it from the Bandipur National Park.
Things To Do In Nagarhole
Nagarhole reserve is one of the well known protected areas in India. It is also known as the Rajiv Gandhi National Park. Nagarhole is located at a distance of 94 kms from Mysore. It is situated in the northwest of the adjoining Bandipur National Park and both the parks are separated by the Kabini reservoir.
Nagarhole Weather
The weather in Nagarhole National Park is moderate right through the year. Summers are slightly warm with an average temperature of 33 degree C. The summer season spans over the two months of March and April. The winter season commences from November and lasts till January and the minimum temperature plummets to a low of 14 degree C.