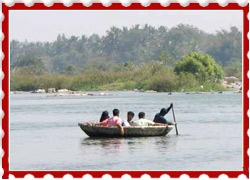 Nagarhole reserve is one of the well known protected areas in India. It is also known as the Rajiv Gandhi National Park. Nagarhole is located at a distance of 94 kms from Mysore. It is situated in the northwest of the adjoining Bandipur National Park and both the parks are separated by the Kabini reservoir. The varied topography of Nagarhole National Park makes it an ideal habitat for wild animals and the reserve is frequented by tourists from all over the country and outside. The article lists down what fun things do and see in Nagarhole National Park, for the wildlife lovers.
Fun Activities To Do In Nagarhole
Wildlife Viewing
Nagarhole National Park is rich in wildlife which includes four-horned antelope, sloth bear, civet, spotted deer, elephant, flying fox, tiger, panther, gaur (Indian bison), sambhar, wild boar, black-naped hare, bonnet macaque, and pangolin which makes it an ideal destination for the wildlife enthusiasts. Cobras, crocodiles, kraits, pythons, vipers and various species of lizards are also found in the forests.
Jeep Safaris
The forest department in Nagaehole provides for minibus safari in the national reserve. Jeep safaris inside the park are also allowed, if you have brought your own jeep. However, you need to seek the permission from the forest department. Taking along a guide is mandatory in a jeep safari. The safaris commence from the range office inside the park. The forest department also organizes for elephant rides which last about 30 minutes. The park and safari timings are 6 to 8 in the morning and 3 to 5.30 in the evening
Bird Watching
Nagarhole National Park has a sizeable population of birds. It is home to over 250 species of birds making it a sought-after destination for the birdwatchers. Some rare species of birds can be spotted in Nagarhole which are not seen anywhere else. The most spotted bird species are the common babbler, bee-eater, bulbul, crested serpent, hornbill, peacock, woodpecker, great Indian reed, eagle and the southern tree pie. The park is a paradise for wildlife lovers and environmentalists.
Boating
Boating is another exciting fun activity to do in Nagarhole National Resreve. A relaxed boat ride through the Kabini River's backwater to sight crocodiles, birds and various other animals is simply one of the most interesting things to do in Nagarhole. You can also stay overnight in the river lodge for a complete experience of this natural habitat.