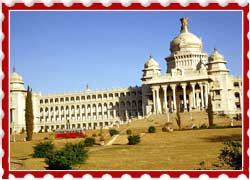 The mere mention of Bangalore conjures up the image of a uber-chic metropolis endowed with a salubrious climate and ample greenery. Trendy hangouts and an ever-increasing population of young professionals have given the capital of Karnataka a vibrant image. A city pulsating with energy, Bangalore has indeed come a long way from being the sleepy cantonment town that it was during the British Raj. Consequently Bangalore tourism has expanded manifold.
Bangalore is an anglicized version of Bengaluru, which is a derivative of the words Benda Kalooru. Legend has it that in the year 1120 AD, when the Chola King Veera Ballalla reached this place after losing his way in the jungle during a hunting trip, an old lady offered him shelter for the night and served him baked beans for dinner. In a sign of gratitude to the lady, the King constructed a town and named it Benda Kalooru which means baked beans.
But the present city of Bangalore took shape courtesy the visionary efforts of local chieftain Kempe Gowda who founded the city in 1537. Over the years Bangalore has come to be known by a multitude of monikers. While the tree-lined avenues and spacious parks have earned it the sobriquet of Garden City, the bevy of chic pubs has made it famous as the Pub City.
Bangalore has been hailed as India's Silicon Valley due to the presence of a large number of reputed IT bellwethers. Tourism in Bangalore is happening with a substantial number of tourist attractions. The city is also a Mecca for food connoisseurs. Bangalore has restaurants to suit varied taste buds.
Eating joints in Bangalore
reflect the cosmopolitan character of the city. One can find Chinese, Italian, Japanese, Lebanese, Mexican and various other restaurants specializing in international cuisine. Apart from international cuisine, there are a number of restaurants catering to Indian palette. These include Punjabi, South Indian, Bengali, Marathi, Rajasthani, and Gujarati restaurants. Go ahead on a culinary experiment during your stay in Bangalore.