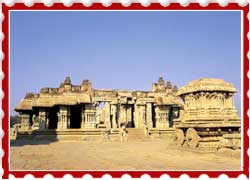 Once the majestic capital of the powerful Vijayanagara Empire, Hampi is now a ruined city of ancient palaces and forts. Founded by Harihara and Bukka in 1336, the landscape of Hampi was dotted with magnificent palaces, sacred temples, massive fortifications, baths, markets, pavilions, and stables for royal elephants. The Vijayanagara kings were great patrons of art and Hampi became the epicenter of a flourishing indigenous culture.
All of these were gradually reduced to rubble as the Empire fell to the Muslim invaders of North India in 1565 after the disastrous Battle of Talikota. The victors mercilessly pillaged this capital city and the ruins were left to tell the tale of the bygone era. Now declared a World Heritage Site by UNESCO, tourists and enthusiastic backpackers travel to Hampi in large numbers.
The sprawling city was planned in such a way that the important structures are located in two areas, referred to as the Royal Centre and the Sacred Centre. The Royal Centre contains remnants of opulent palaces, baths, pavilions, royal stables, while the Sacred Centre locates holy temples. The Sacred Centre is situated on the northern edge of the city along the banks of the holy Tungabhadra River.
Hampi Excursions
The Tungabhadra Dam harnesses the waters of the Tungabhadra River. At the base of the dam is a garden styled along Japanese lines.
How to Reach Hampi
The ruined city of Hampi is located in the Bellary district of Karnataka. For the history-buffs as well as those who have an interest in architecture, a visit to this place is a must, if they are planning a trip to Karnataka. Considering the large rush of tourists that the city experiences every year
Pattabhirama Temple
The Pattabhirama Temple is a major pilgrimage center in the ruined city of Hampi. Along with the Virupaksha and Vitthala temples, the Pattabhirama temple embodies the prolific temple-building ventures of the Vijayanagara rulers.
Tourist Attractions
The majestic Virupaksha temple stands proudly amidst the ruins of Hampi. While the city of Hampi was pillaged by marauding invaders, the Virupaksha temple stood erect and worship continued throughout the ages. The deity of Virupaksheshwara or Pampapathi, an incarnation of Lord Shiva, is worshipped here.
Virupaksha Temple
The majestic Virupaksha temple stands proudly amidst the ruins of Hampi, the erstwhile capital of the mighty Vijayanagara Empire. The temple predates the Vijayanagara period and underwent additions and renovations during the Chalukyan and Hoysala dynasties.
Hampi Weather
The weather in Hampi is tropical in nature. March, April, May and June comprise of the summer months in Hampi, which are generally hot and dry, with peak temperatures touching 440 C. The minimum temperature around this time hovers somewhere around 290 C. With the advent of the rainy season in July, incessant rains made it impossible to venture outside.